History of The Beechworth Sweet Co.
Founder, Judi Borschman's vision for an 'olde world' sweet shop in the historic gold town of Beechworth started out in a single fronted shop in September 1992.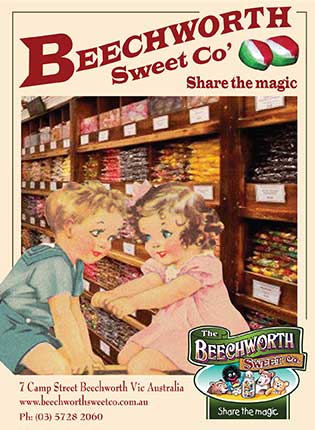 Judi also operated a teddy bear shop, well known for its gollies. When the town's fairy store closed, Judi decided to combine teddies, fairies, gollies and lollies all in one shop to deliver her vision for a fun store which revived childhood memories. Her addition of quirky gifts means the store draws in people of all ages.
The mix is obviously working as the Beechworth Sweet Co has expanded to fill three shops and employs 18 staff.
The Beechworth Sweet Co earned its reputation through these years for not only sourcing the finest quality confectionary but also providing a magical experience for their customers.
Famous for its award-winning window displays, wide variety of confectionary and quirky non-confectionary gifts, the Beechworth Sweet Co now offers a blend of 'olde world' charm with treats from a bygone era, sweets from other countries and all the modern day favourites.