The Experience
Visitors remark that entering our store reminds them of a cross between Alice In Wonderland, Aladdin's Cave and Charlie and the Chocolate Factory.
The Beechworth Sweet Co promises an end to boredom and a sweet journey to new discoveries and endless possibilities - come in and experience it for yourself.
There's the very real prospect that you will come across the White Rabbit and the Mad Hatter in the store. You will find rare and interesting gems among the treats and lively displays – possibly a genie's bottle. It's the sort of place you could imagine discovering a chocolate bar with a golden ticket. Then there's always Mr Frog.
We invite you to soak up the experience. For what looks like a small store, you end up feeling like you have walked through a treasure trove.
"Wow!" is the common reaction from visitors of all ages.
Our focus is on maintaining that wow factor with new product ranges, regularly changing speciality areas in every corner of the store, including the fairy table, ceiling decorations, gorgeous packaging for your gifts and of course knowledgeable and helpful staff.
Come in. Taste the magic. See what's new. Experience the wonder.

Group Tours
We encourage you to let us know in advance if you would like to bring a group to visit the Beechworth Sweet Co, so that we can ensure we have the correct staffing levels to give you our full customer service experience.
History of The Beechworth Sweet Co.
Founder, Judi Borschman's vision for an 'olde world' sweet shop in the historic gold town of Beechworth started out in a single fronted shop in September 1992.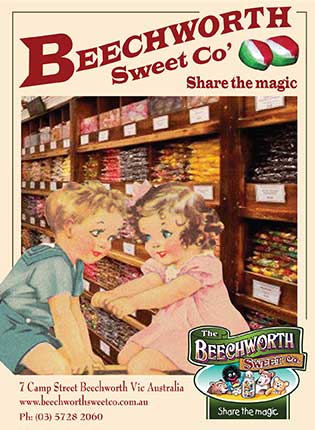 Judi also operated a teddy bear shop, well known for its gollies. When the town's fairy store closed, Judi decided to combine teddies, fairies, gollies and lollies all in one shop to deliver her vision for a fun store which revived childhood memories. Her addition of quirky gifts means the store draws in people of all ages.
The mix is obviously working as the Beechworth Sweet Co has expanded to fill three shops and employs 18 staff.
The Beechworth Sweet Co earned its reputation through these years for not only sourcing the finest quality confectionary but also providing a magical experience for their customers.
Famous for its award-winning window displays, wide variety of confectionary and quirky non-confectionary gifts, the Beechworth Sweet Co now offers a blend of 'olde world' charm with treats from a bygone era, sweets from other countries and all the modern day favourites.